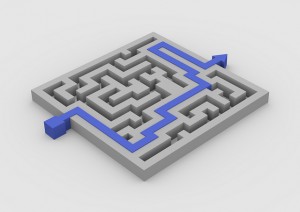 My planning and consulting work is dedicated to helping clients navigate complexity, or as I often say, "Helping to move from complexity to clarity."
Life today is complex. The complexity can involve money, business, family, and legal or other factors – often in combination. When confronted with such complexity, many clients value assistance in arriving at a workable plan. Others appreciate simply having an objective sounding board as they think through an issue or to help assure they have not missed any essential element in their own analysis.
This approach to advising and planning allows me to combine all I have learned about law, money, families, cash flow, finance, investing, insurance, financial planning, retirement planning, business, business succession planning, estate planning, asset protection, and charitable giving.
My experience is that this "big picture" approach is often most valuable when someone is at – or thinking about – a major life transition. These major life transitions include marriage, birth of a child, job transition, retirement, sale or transition of a business, death of a spouse, divorce, receiving an inheritance, etc. These are the times when one naturally says things like:
"Should I keep doing what I have been doing or do I need to do something different?"
"I know I need to do something different now, but I don't know what!"
"I have an investment advisor, an insurance agent, an estate planning lawyer, a business lawyer, and a tax advisor . . . and I still don't know how my retirement is going to work!"
Strategic Planning Process and Fees
Because this work is intensely personal, the "fit" is crucial. Without the chemistry for a successful professional relationship, the work cannot be successful. Therefore, there is never a charge for an initial meeting, which may run up to 1.5 hours.
At the conclusion of the initial meeting, I will quote a project fee or range. Where that is not possible due to the nature of the work, I will consider proceeding on an hourly basis. Work on an hourly basis is based on a sliding scale rate of $150 – $250, plus expenses.
However the engagement proceeds, the only compensation I receive is from fees paid by clients. All consulting is pure advice-based consulting which adheres to a strict fiduciary standard: what is in the client's best interest.